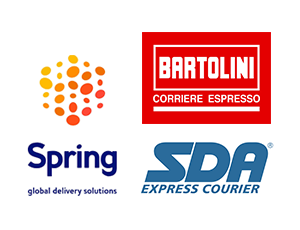 The purchased products will be shipped by AM to the address indicated by the Customer.  Each shipment is made to the Customer with selected express couriers (usually GLS, SDA, Crono). Indicatively, without any constraint for AM and subject to the availability of the products (as well as any causes of force majeure), the goods will be delivered to the courier as soon as possible upon acceptance of the order by AM (generally 24/48h, excluding islands, and except for problems not attributable to our work). Orders will be processed only with available goods.
Upon receipt of the goods, the Customer must verify the integrity of the packages. It will be the Customer's responsibility to have the courier detect and note exactly the damage of the package. Failure to comply with the notification of a damaged package would be subject to forfeiture of asserting Customer's rights. The shipments constitute delivery of the goods and from that moment are out of AM's responsibility.
---
Shipping costs are:
Europe 12€ delivery time around 7-10 working days
With the exception of the Canary Islands, shipping 30€
Rest of the world €25, delivery time around 15-17 working days
The cost of shipping will automatically adjust to the achievement of the relative amounts.